Haytor Rocks At Sunrise
Dartmoor Pony at Sunrise
Standing On Haytor Rocks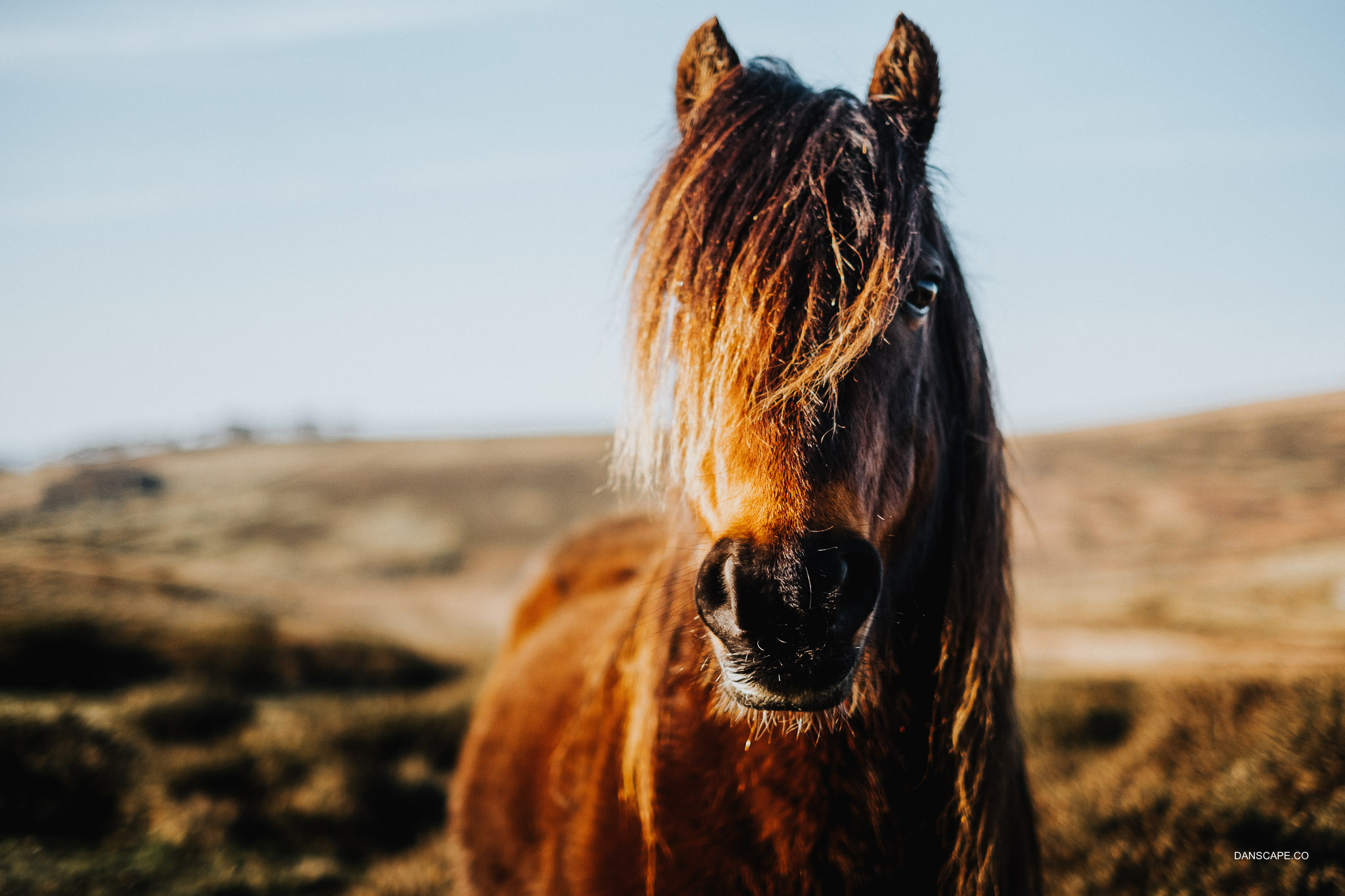 Portrait of a Dartmoor Pony
Sunshine Pony
The Village of Lustleigh
Rosebush & Vintage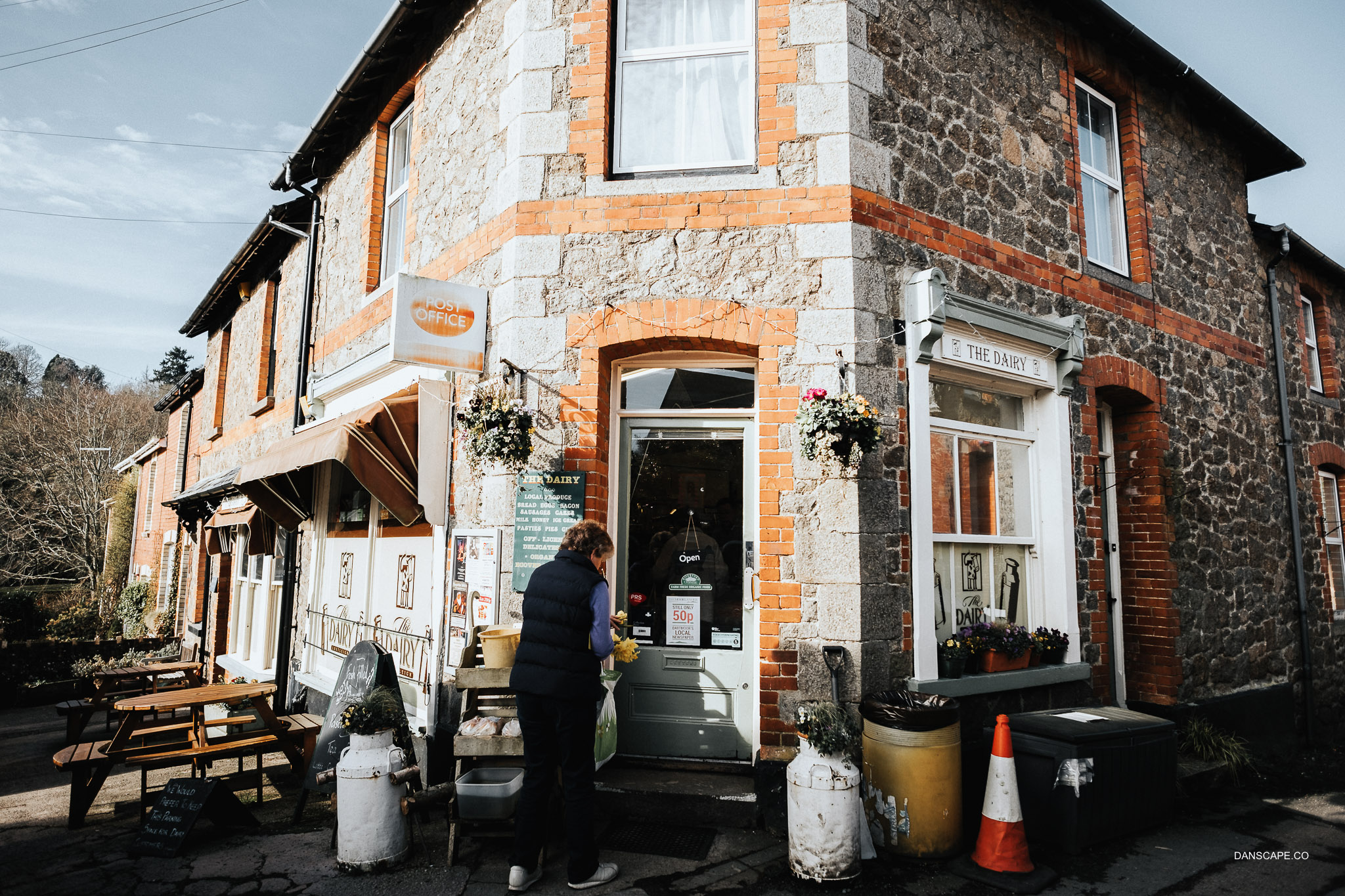 Lustleigh Dairy & Post Office
Enter The Winding Wistman's Wood
Winding Trees of Wistman's Wood
Green Beard Lichen at Wistman's Wood
The Wood of Wisemen
Postbridge
Dartmoor Ponies in The Grass
Lone Tree in the Grasslands
Haytor Rocks At Sunrise
The giant scale of gritstone rocks on Haytor illuminated by a pink & purple sunrise. We were fortunate our visit coincided with such a colourful sunrise.
Dartmoor Pony at Sunrise
We were greeted at the Haytor Carpark by this bold Dartmoor Pony, who shall be named Arrow. As we walked from the car he approached for a morning greeting as the sunrise colour began to show itself in the background. Shot on the Fuji GFX-50S.
Standing On Haytor Rocks
As the sun quickly climbed in the sky a harsh shadow was cast to the opposing side of Haytor and the bright ball of the sun burst around the corner.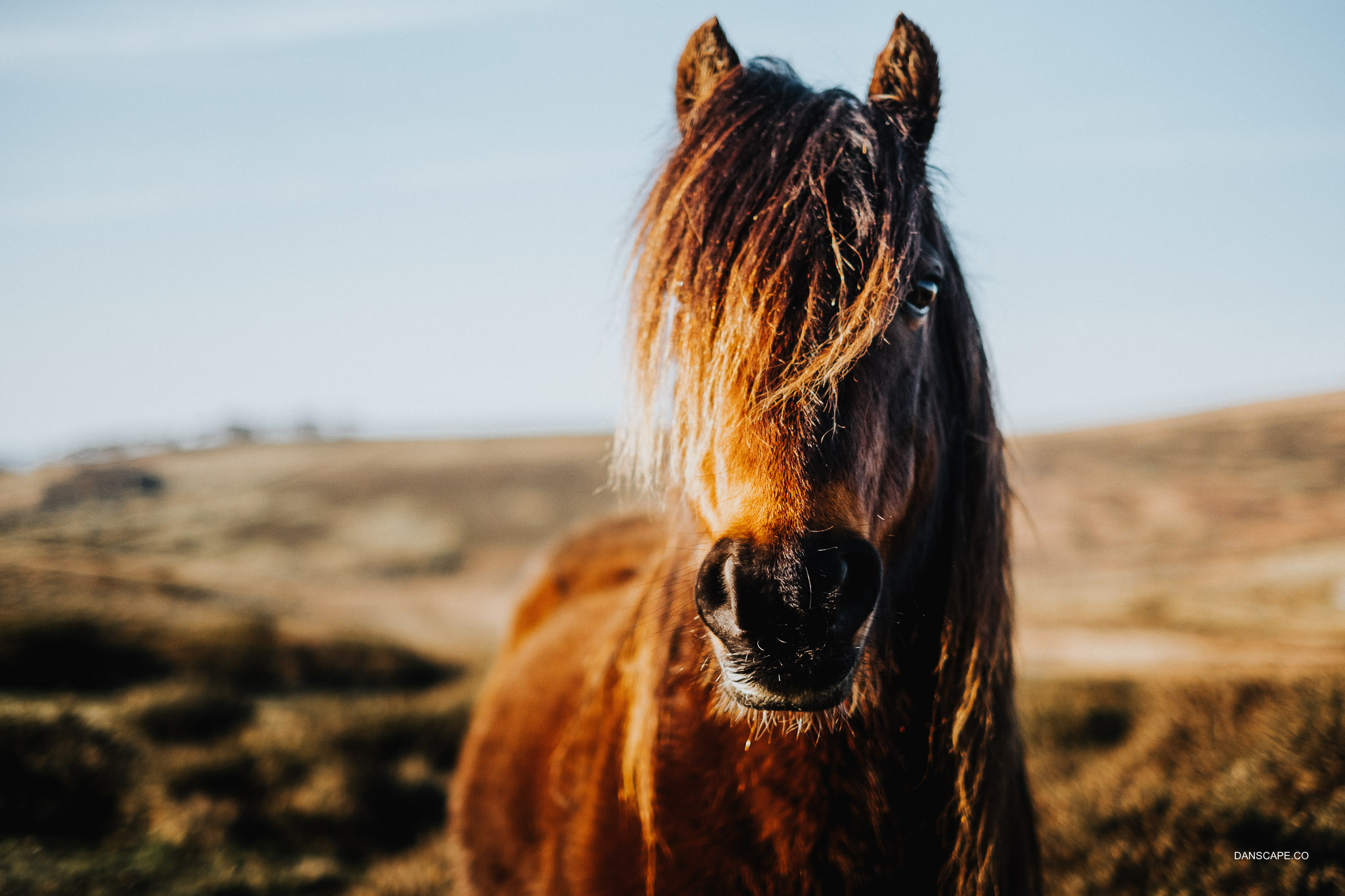 Portrait of a Dartmoor Pony
Back at the Haytor car park the ponies were still calmly enjoying the morning sunshine and rummaging around the heather and grass. Occassionally posing for portraits as well in their nonchalant way, Just look at that flowing windswept hairstyle.
Sunshine Pony
I recently read these ponies described as tame & arsey. I guess that could be accurate, they sure are pretty though especially hiding among the light flare of a sunny morning.
The Village of Lustleigh
A short but thrilling drive from Haytor we spent time exploring the picturesque village of Lustleigh. Thatched roofs, friendly locals and quiet streets.
Rosebush & Vintage
Wandering the streets of Lustleigh this vintage car caught my eye for a couple of reasons. It's vintage styling and classic wing mirrors and it's 1970's bumper sticker promoting whatever the 70's word for Brexit was.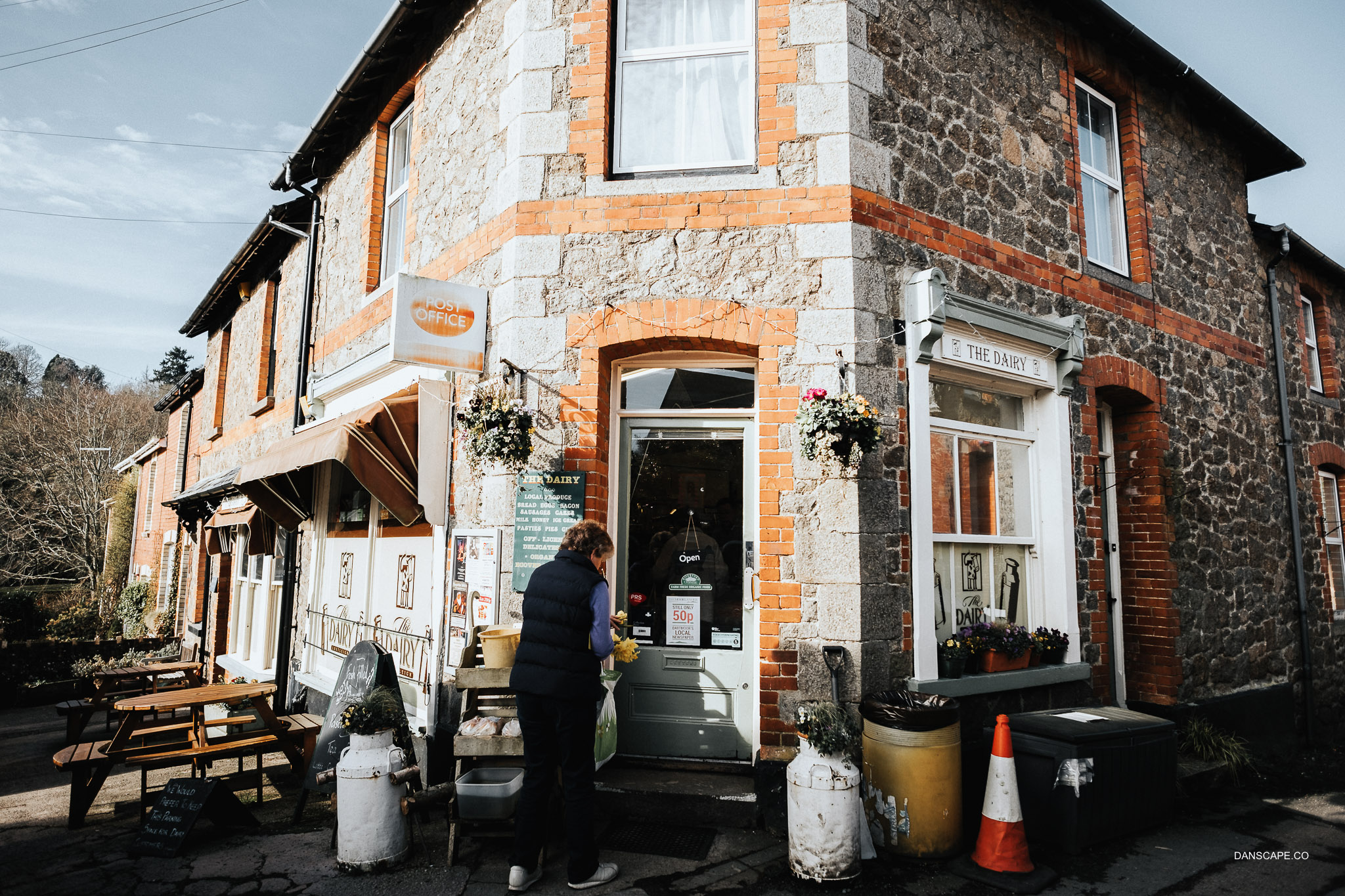 Lustleigh Dairy & Post Office
The local store is always the place to find a little but of true country life.
Enter The Winding Wistman's Wood
After a brief cafe stop in Widecombe in the Moor we made our way to the 'must see' woodland of Wistman's Wood. It's a 30min walk from the carpark and from a distance it's not obvious as to it's special appeal.
Winding Trees of Wistman's Wood
A tangled web of dwarf oak trees, cloaked in rags of lichen and moss. Entering the woodland on an overcast day the detail of all this chaos was difficult to comprehend at first.
Green Beard Lichen at Wistman's Wood
According to one local chap, the lichen on these trees has medicinal powers which make it worth more than it's weight in gold. I had no ailment at the time to take interest in it's capabilities, and just took in it's fascinating form.
The Wood of Wisemen
The rocks that tumble all around the base of the dwarf oak trees are perhaps it's saviour. The chaos on the ground make it difficult for man or animal to pass through or graze, thus keeping this as one of few ancient woodlands in the UK. For me it was a shame to only visit for a brief time, I imagine how much potential this place would have to create fairy-tale imagery on a misty morning.
Postbridge
The day in Dartmoor was due to end at Wistman's Wood, but on my route out of the park I would pass a popular stop of Postbridge and it's old Clapper Bridge. A clapper bridge being large slabs of stone supported on stone pillars and something of a characteristic of Dartmoor.
Dartmoor Ponies in The Grass
As I set off for home some 6 hours away I was content with my brief time exploring in Dartmoor. Yet my most memorable images from the day were yet to be made. As I noticed a car stopped with a fellow photographer perched at the nearby fence line, I wondered what scene they had spotted. This kind of 'quick stop the car' feeling of photography is something I know well. An urge that's often impossible to resist. When I saw the potential images unfolding here I knew it was one of those moments. The kind of setting I hadn't expected to find here in Dartmoor. More akin to a scene from the dry grasslands of the wild west. An image with motion, calmness, serenity, colour, depth, and subtly.
Lone Tree in the Grasslands
As I watched the ponies and tried to move closer into the grass they decided that time was up and moved further into the fields. I took some time to enjoy the landscape. Itself a beautiful palette of shape and colour even without the ponies. With this final image I was ready to head for home with thoughts of spending more time here soon.
1
2
3
4
5
6
7
8
9
10
11
12
13
14
15
·
·
·
·
·
·
·
·
·
·
·
·
·
·
·